We Are Here For You
Our team of towing professionals are ready and waiting for your call. Whether your vehicle was damaged in an accident or your car gets a flat tire on your weekend drive, we we will be there to safely relocate your vehicle to our storage facility or wherever you need it to go in the Livonia area.
Towing Services
We have 10 trucks in our fleet ready to assist you with all your towing needs. We are available 24/7 and have the equipment to tow vehicles of all sizes.
Who We Are
We are a community-focused towing company serving the the Livonia area.
Not your typical towing experience, we are here to service the residents. A team with over 40 years of experience is ready to take your call!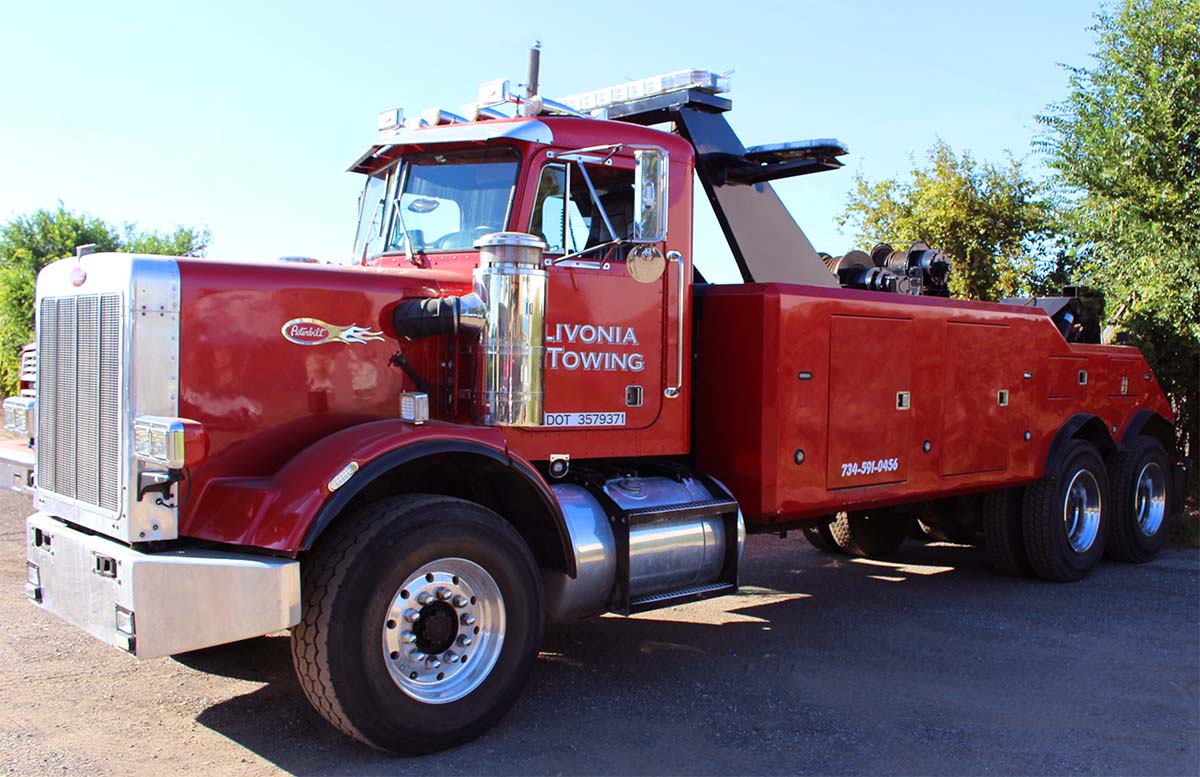 Easy to schedule. Quick to arrive. Fast friendly service.
marie beaudoin
17:44 27 Feb 23
For a tow yard it is exceptionally clean and organized! Staff are super friendly and helpful.
Missy Moore
19:19 09 Feb 23
The young lady who answered the phone at 11pm on a Saturday night was an absolute sweetheart. Bruce who showed up with the tow truck was so nice and understanding he's actually checked in on me personally since that Saturday night. They both went above and beyond.
Caitlyn Bohlen
23:54 17 Dec 22
This is the best impound in the state I promise, the only impound that will not give you hell to get your vehicle out, unlike the ones in Detroit doesn't matter if you present all the right documentation they will still deny access just to charge you the extra fee to tow your vehicle outside the gate, I promise you Livonia towing is not like that at all great customer service
Will Evans
17:35 20 Oct 22
TOW WAS REALLY REASONABLE 145$ MOST OF THEM CHARGE 300$ OR MORE WHEN THEY TOW YOUR CAR FOR THE POLICE
Jaxlynn Wedlow
17:56 17 Oct 22
What a wonderful company to work with. Thank you for going above and beyond. Office staff was amazing too!
Maryanne Klotz
18:19 14 Oct 22
My grandson had his car towed to this location last week. We made it there @ 5:03 and they still waited on him. Most business would have not because of a technicality as that.I don't fault this towing yard, I fault the Livonia Police Dept. They knew that his car was not impeding traffic and an AAA tow truck was in route. That was very mean and inconsiderate of them.
Suzanne Thomas
16:33 11 Oct 22
DIDN'T PRICE GAUGE LIKE 99% DO WHEN YOUR CAR IS TOWED
Jaclynn Wedlow
06:07 09 Oct 22
john larue
17:49 08 Oct 22
I am a service manager for a dealership and I have done business with all of the local tow companies, Livonia towing is by far the best company that I work with. Professional and prompt. Jack was at my house at 6:00 in the morning to pick up my car. I was so worried about someone messing it up due to how low the car is to the ground, he knew I was worried and he took great care of it as if he owned the car. The owner of the company Diane was super professional and understanding of my needs. Thank you all so much. Great Team!!!!!!!!! I hope I never need one but if I do, I'm calling Livonia Towing.
Derek Samp
13:08 05 Oct 22
No problems, quick friendly service.
Jennifer Green
02:06 13 Aug 22
Very prompt emergency service
David Wohlgemuth
18:46 03 Aug 22
My truck was totaled and they were super cutios and helpful. Yhey will be my first call when I need a tow in the future
Mike4spirit
11:18 02 Aug 22
I was apprehensive due to other reviews, but my experience was as pleasant as it could be under the circumstances. The lady who helped me even asked if I'd brought screwdrivers to relieve my plate and loaned me some when I said I hadn't even thought about it.
Judith Omune
06:48 23 Jul 22
One of the easiest to get m y car out
Danny Phaup
05:44 07 Jul 22
They were very kind and accommodating after my daughters accident! Very different feel than other tow businesses in the areas. Very happy with their service and kindness.
Jody Mager
05:19 12 Jun 22
Fast,friendly and very polite.
Gerita Bailey
21:21 30 Apr 22
A older friend of mine had her car impounded by police after a minor incident leading to the discovery that her driver license had been revoked pending a review of age related capability. I tell you all this because we , her friends, were unsure as how to proceed on the best way to get her insurance to minimize her cost of getting her car released. At that point the owner of the business, Diane Wilson, stepped in an gave us step by step guidance as to how to proceed with police and insurance reports and even printed out information as to sale value of the the vehicle in question. I was so taken aback by her kindness I asked why she was taking so much of her time and being so helpful to which she replied " I didn't get into this business to necessarily make money, I simply like to help people when I can !" You Can't do better than that to insure customer satisfaction and loyalty !!!
Jack & Diane were very professional, and helpful during our visit. Definitely recommend using this service.
Hailey Harper
21:45 06 Apr 22
Diane was an Angel, an honest hardworking company that provides more than just a tow - First time and probably the last we will ever meet, but if in the Detroit area - Livonia towing is my first and only choice!!!!!!
Jesse Collins
19:50 06 Apr 22
They saved me money! So helpful and pleasant!
Michelle Callahan
22:34 27 Mar 22
When other towing companies could not come out, Livonia towing was there .. They are very communicative and very professional.
Michelle Bleim
17:46 26 Feb 22
I had a great experience with my driver Brandon. Very friendly and helped with everything possible. He arrived within a timely manner and dropped my vehicle off as close to my apartment as we could.
Nathan Chall
17:03 19 Feb 22
Very friendly and helpful.
Krista Ceresa
16:44 26 Oct 21
Late night , hit a nasty pothole in my Charger. Called a couple other places and was told 2 hours when these other places are 10 minutes from me. Livonia towing got on site and had me hooked up in under 30 minutes. Awesome service awesome everything. A ++!
My car was stolen and stressful. The towing company and impound service did a professional job thank you.
Lisa Maria
17:47 01 Aug 21
All of my belongings were still there and they were extremely kind and helpful.
Very quick response and professional. Safe tow vehicle.
Corry Steinmetz
21:36 02 Jun 21
The entire office staff made a stressful situation much easier. They coordinated delivery of the vehicle to a tire store for multiple tire replacement. Professional, knowledgeable, and great customer service.
mark moriarty
20:07 10 May 21
Great service and friendly drivers. They have helped me a few times. I highly recommend them.
Jim Woodruff
00:55 07 May 21
Livonia towing went out of their way to make a bad day atleast tolerable
Papa D Jackson
03:50 03 May 21
My car was towed and they cut me a deal on the price to stay within my means and also made sure I was able to get back on the road very quickly! 10/10 will use the next time I get arrested!
Katherine Cristini
21:34 30 Apr 21
My mom and son were in rear ended in an accident. The tow truck driver was great with them. He waited with them and tried to help entertain my son who has Down syndrome while my mom was trying to get everything together and speak to the police as they didn't want him out of the car on the main road. He helped calm them both down and made a bad situation a little easier. Thank you so much!!
Lisa Potvin
19:07 27 Apr 21
Livonia Towing is under new management and they were very kind and helpful!
Adrian McQueen
19:46 26 Apr 21
Excellent and professional customer service. Highly recommend.
Jeffrey Jaghab
19:12 22 Apr 21
This company was amazing! They came to our rescue in 20 minutes and the lady on the phone was so nice and professional!!!! We were 25 mile from home and they got us home safe and sound! Thank you Ray!!! I'd highly recommend this company!
Debbie Sigler
23:57 18 Apr 21
Very professional and courteous and helped my situation out very professionally it's one of the few times I've been to a towing company and had a good experience they even tried to save me money through my insurance company to avoid paying fees
Brian Raymond
20:36 04 Dec 20
A little difficult to find with mapquest. Passed it up, but eventually found d it. This place could use a better sign. The reviews had me concerned. My vehicle needed to have personal items removed and the plate removed I brought a screw driver for the plate. I had expected uncordial service when I went in, but the two women who were working were very professional and very attentive. They assisted me immediately and we're kind.. I went to retrieve my belongings and realized I didn't have the right to oil to remove the plate. I called them from outside and they were more than acco.modating offering me some wrenches no questions asked. I was grateful for that and took them back to them gave them the keys and that was it. An easy process. When I asked about the reviews, the woman said it was written about her sister, who wasn't there that day. Well. Whoever the two women who were working that day, were more than hospitable with great customer service. I believe they should be recognized so that the reviews can be balanced. The only reason I gave it four stars is because of the map location and confusion and needing a bigger brighter sign for the building itself and entry location. Hope this helps others.
Dena Phinney
04:36 13 Nov 20
roger buell
20:31 15 Sep 20
John and his team are top notch. We got one of our lawn machines stuck in a ravine... Then we got a truck stuck trying to pull the machine out. Lol. Well John fixed everything for us. I wished we would have saved the time and just called him in the 1st place. I would recommend them in a heart beat.
Ryan Shiplett
23:43 14 Sep 20
Mike OMeara
23:48 03 Jan 20
Great servas fast responce good drivers with good attitudes and professionalism drivers are well trained to not dammage vehicles nomatter the condition its in.
Allan Rains
09:44 09 Dec 19
This is a police impound! They are okay and not as rude as most car impound! Paid the fee of $125 and they release my vechical!
Just for work nothing special
royce bowden
00:47 24 Apr 19
Always helpful when asked to help others in the community.
Office Hours:
Monday - Friday: 9AM – 5PM
Saturday: 9AM - 1PM
Have a Question? Get in Touch!